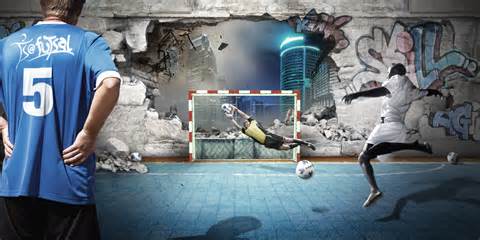 VENUE AT WEST KIRBY CONCOURSE WEDNESDAY 6-7 PM £4.50 (A SESSION)
Futsal is an exciting, fast-paced small sided football game that is widely played across the world and is officially recognised by both UEFA and FIFA.

The nature of the game places a large emphasis on technical skill and ability in situations of high pressure, and is subsequently an excellent breeding ground for football competencies that can be translated into the 11-a-side format of the game.

Many of the top world class footballers played Futsal in their youth and credit it with supporting their footballing development; players of the calibre of Pele, Zico, Ronaldinho, Kaka, Lionel Messi to name but a few of the South American legends all played and enjoyed Futsal. But Futsal has not just helped produce South American football stars, on the European stage Cristiano Ronaldo, Deco, Xavi, Fabregas amongst many others have played Futsal to develop their skills.

"Futsal was important in helping to develop my ball control, quick thinking, passing….also for dribbling, balance, concentration…. Futsal was very, very important, no doubt." – Pele, World Cup Winner: 1958, 1962 & 1970
"Perhaps in regular football you cannot appreciate the talent. Everything is more physical. But in Futsal you have small details of quality, class and tactical aspects."
Xavi FIFA World Cup and UEFA Champions League Winner
Futsal is a five-a-side game, normally played on a flat indoor pitch with hockey sized goals and a size 4 ball with a reduced bounce. It is played to touchlines and all players are free to enter the penalty area and play the ball over head-height. Games are 20 minutes per half, played to a stopping clock (similar to basketball) with time-outs permitted.

There are a number of differences to our traditional version of small sided football, but the dominant elements are the absence of rebound boards and amendments in the laws that encourage and foster skilful, creative play above the physical contact that tends to be a feature of English five-a-side.
The surface, ball and rules create an emphasis on improvisation, creativity and technique as well as ball control and passing in small spaces
"Futsal is an extremely important way for kids to develop their skills and understanding of the game. My touch and my dribbling have come from playing Futsal".
Ronaldinho FIFA World Footballer of the Year 2004 + 2005
World Cup winner Pele: "Futsal was important in helping to develop my ball control, quick thinking, passing… also for dribbling, balance, concentration…Futsal was very, very important, no doubt."
World Player of the Year Lionel Messi: "In Argentina, when I was a young boy, I used to play a lot of Futsal on the street and with Newell's Old Boys. It was a really fun game that's helped me a great deal."
Real Madrid winger Cristiano Ronaldo: "In Portugal, all we played growing up was Futsal. The smaller court helped my footwork skills, the nature of the game made me feel so free when I played. If it wasn't for Futsal, I would definitely not be the player I am today."
Milan and Brazil forward Robinho: "I played Futsal for many years and it helped me to become the player I am today. There you don't have time to think, you are always tightly marked and you develop a sense for performing in small spaces."